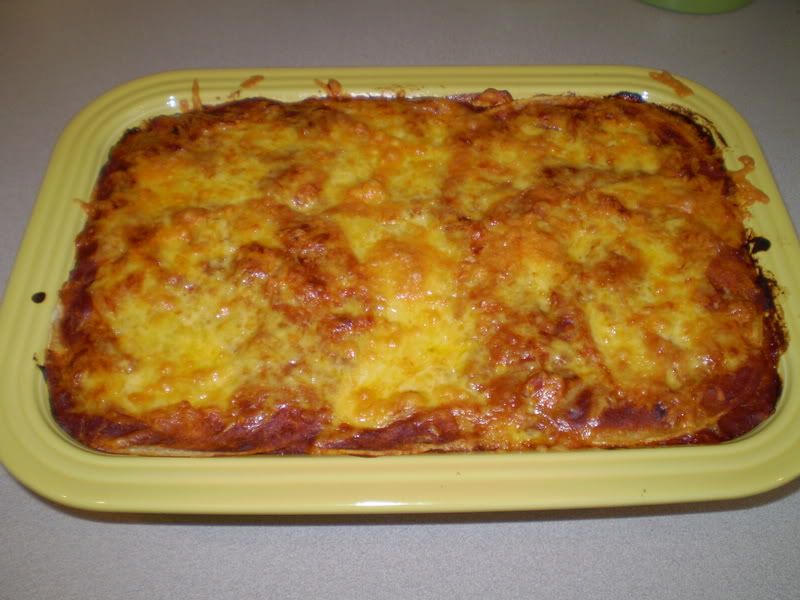 My husband thinks that in a past life I was a Mexican Mamasita named Rosita since I could eat Mexican food every day of the week and be completely, blissfully happy. He often shouts...No More Cilantro!...everytime I say...Let's go to our favorite Mexican place for dinner, or I'm making tacos tonight! But he obliges because he loves me, and because if I didn't cook for him, he'd be eating Mac and Cheese or cereal for dinner every.single.day.

Although I am starting to open my culinary horizons a bit and am more willing to try new things, sometimes I still like to keep things very simple for a quick meal. And in my kitchen, it doesn't get any quicker than my lazy version of enchiladas that I don't even bother to roll up and instead layer and call it "Mexican Lasagna" just to make it seem fancy. I forgot the jalapenos when I made this last time and I definitely noticed the difference. That little kick of spice was surely missed.
Mexican Lasagna (or Enchiladas)

Ingredients:

18 Corn Tortillas
1 lb boneless skinless chicken breast
1 can refried beans (I like to use the fat free version – they taste the same)
1 can pinto beans, drained
1 can whole corn kernels, drained (which if you are like me you will forget to actually add in)
2 cans (or one large 28 ounce can) tomato sauce
2 tablespoons chili powder
2 teaspoons cumin
¼ cup dried onion flakes (softened in water and drained – or you can use onion powder or fresh onion)
3 cups shredded sharp cheddar cheese

Directions:

Heat oven to 400 degrees and have a lasagna dish on hand.

Rinse chicken and slice into small strips or chunks. Season with salt and pepper and cook over medium heat in a sauté pan with a few tablespoons of EVOO. When the chicken is mostly done, drain any excess EVOO left in the pan, then add the tomato sauce, chili powder, cumin and onions and stir. Let the sauce and chicken simmer on medium low heat while you prepare the other ingredients.

Mix the refried beans and pinto beans together in a bowl. Add a little water if the mixture is too thick. Spoon enough of the sauce (minus the chicken) into the bottom of the lasagna dish to coat it. Layer the bottom of the dish with the corn tortillas (my lasagna dish is large enough to fit 6 overlapping tortillas per layer). Spread 1/3 of the sauce and chicken over the tortillas, next spoon on and spread half of the bean mixture, then sprinkle on half of the corn and top with cheese. Repeat the layers: tortillas, sauce and chicken, beans, corn and cheese. Then top with one last layer of tortillas, the last of the sauce and cheese.

Bake for 25-30 minutes. Allow to cool for 10 minutes on stove top, or if you are like me, serve right away without letting cool so it comes out as one big mess from the dish! Top with sour cream and salsa if you'd like and enjoy.