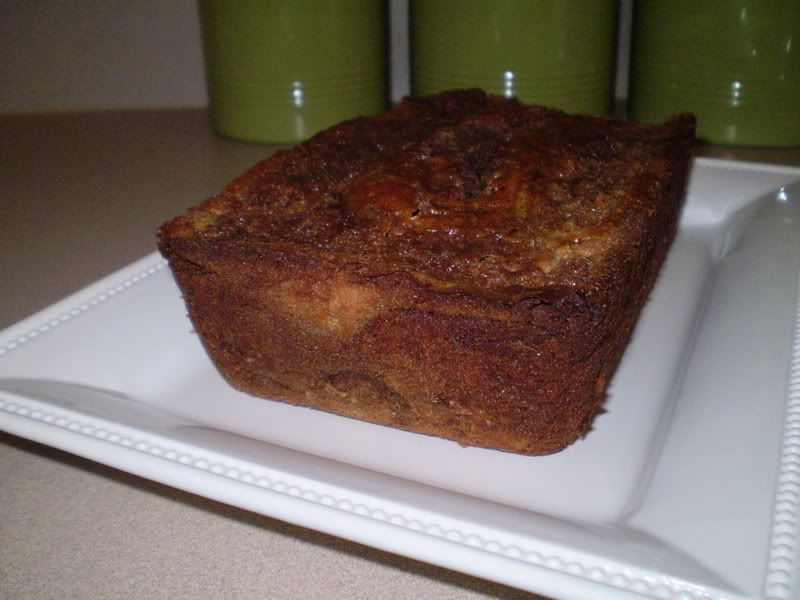 It's been a busy couple of weeks and I'm just now getting around to posting my last 2 TWD's. Please forgive me, I'm a slacker and my mom was visiting, and well, I was lazy too.
I made the Black and White Banana Loaf (selected by Ashley of
A Year in the Kitchen
, one of my favorite food blogs) a couple weekends ago and as you can see from the pic, it wasn't so much Black AND White, as it was Black and then a little more Black! Apparently I got a little over zealous with the swirling part and I mixed the two batters a little too much. I intended to make this again and not swirl it so much, but time got away from me and all I have is this one sad little picture of a black banana loaf.
Many TWD's reported problems of the batter being very runny and thin, and I have to agree, the batter was extremely runny and when I was attempting to create the swirl, it just sort of mixed all together. Despite not looking very pretty, it tasted great and the chocolate and banana combo was really nice. I do want to make this again, 1. so I can redeem myself and prove that I can marble without overmixing, and 2. so I can eat more of it since it was so tasty.
Even with runny batter and not so great marbling, this was still a great recipe. I have yet to make anything from Dorie's book that wasn't great!! Buy the book if you haven't already, trust me, it's spectacular.