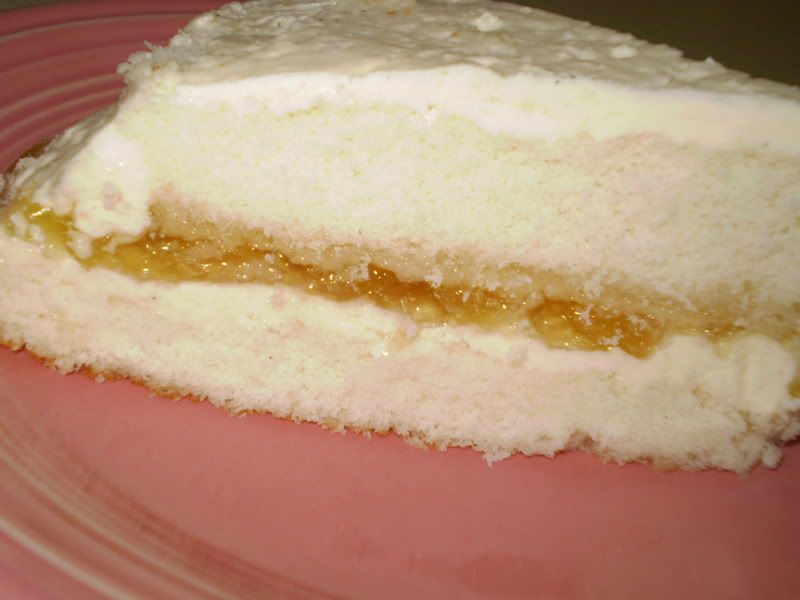 This week's TWD was selected by Dolores of
Chronicles in Culinary Curiosity
. Dolores chose the
Blueberry Sour Cream Ice Cream
recipe, but the ladies who run
Tuesdays with Dorie
decided to let those of us without an ice cream maker do a recipe rewind and make one of the past TWD recipes. I fall into the category of those without an ice cream maker, and I knew immediately what I would do.
My mom was visiting last week and since I have raved on and on about how wonderful the
Perfect Party Cake
is, I decided I would make that for us to enjoy. With a little twist!
Last year when my husband and I got married at Fabulous Caesars Palace in Fabulous Las Vegas, we had our cake made by the Fabulous catering department at Caesars. The cake was...you guessed it...Fabulous! (Sorry, there's just something about Vegas that makes me over use the word Fabulous. :)
One of the layers of our cake was coconut cake with pineapple filling and buttercream frosting. But the cake didn't have shredded coconut in it or on it (which I can't stand), it was just flavored with this wonderful hint of coconut and the pineapple was so sweet and tart and well, if I hadn't just gotten married to my husband, I would have eloped at the Little White Wedding Chapel O'Love with that cake. Yes, it was THAT good!
So as soon as I saw the recipe for the Perfect Party Cake when I first bought
Baking From My Home to Yours by Dorie Greenspan
and joined Tuesdays With Dorie, I knew that one day I would recreate that Fabulous cake using Dorie's recipe.
My husband however, hates pineapple, so he has never understood my love of that cake and why I have been obsessed with it for over a year. So keeping in mind my vow to love him in sickness (yes, it's a sickness to hate pineapple) and health, I decided to divide the batter in half and make one cake using Dorie's recipe of lemon flavored cake with raspberry filling for him, and one with coconut flavored cake with pineapple filling for me to love and cherish.
I mixed the batter together leaving out the lemon zest and lemon extract. Then I divided the batter in half and added 1/2 teaspoon of lemon extract to one, and 1/2 teaspoon of coconut extract to the other. I also left out the lemon juice from the buttercream frosting. In hindsight, it would have been great to add a little of the coconut extract to part of the buttercream as well, but that error in judgement can be corrected the next time I make this cake, which will probably be entirely too soon!
From there, I just made two 2 layer cakes. I did run a little short on the buttercream, but it wasn't a huge problem., both cakes still came out great.
Above is a pic of the coconut cake with pineapple filling. It was very light and fresh and had a great subtle coconut flavor to the cake. Not quite as good as the Fabulous cake from Caesars, but I mean come on...my kitchen doesn't house an award winning pastry team for crying out loud! It was definitely a winner in my book though.
I love this cake so much I am already thinking of other combos to try with it. Next...strawberry and lime? Orange and lemon? Oh so many possibilities!!