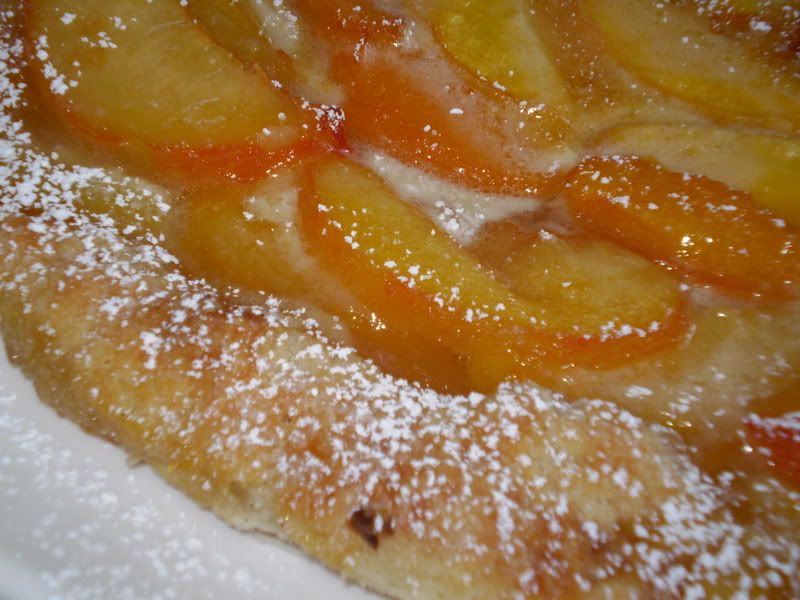 This week's TWD recipe was selected by
Michelle in Colorado Springs
.
I must admit, when I saw that this week's recipe was yet another fruit dessert, I wasn't very excited. I'm more of a cookie, cake, chocolate chocolate chocolate kind of girl. But then I remembered how amazing the
Double Crusted Blueberry Pie
was, and how delicious Dorie's pie crust is, and my mouth started watering a bit.
For this dessert, I ended up using peaches, apricots and plums as part of Dorie's recipe called for; I skipped the nectarines and rhubarb. My original idea for this recipe was to make it tropical and use pineapple, mango, papaya and kiwi. I wasn't sure how kiwi would bake though and my husband said he doesn't like tropical fruits, so that plan got tossed out the window. I might try it sometime though because it sounds really good in theory, so if you've ever baked with kiwi before and it worked out well, please leave me a comment and let me know.
I used peach preserves on the bottom of the crust before adding the fruit. Dorie suggests ginger preserves, but I already had peach on hand and just used that. I also completely forgot to add the graham cracker crumbs on the bottom, which I think definitely would have helped since my fruit did seem particularly juicy. Dorie says that adding graham cracker crumbs helps to soak up some of the juice, and that's a tip that I am going to try to remember next time.
But I was so happy with how the Galette turned out, it was lip-smacking good with a dollop of whipped cream on top. We had dinner with some friends on Saturday night and I took this over for dessert and everyone raved about it. I will definitely make this recipe again.
My husband continually called my beautiful Galette a "Fruit Pizza" so I had to pinch him a few times and correct his error. Then he decided to call it a "gillette" as in the razor blades. Men!