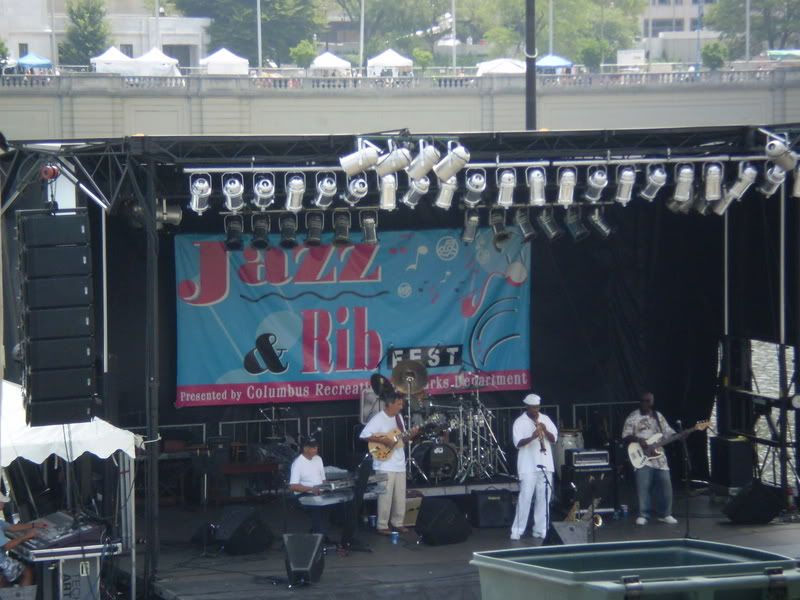 This year we not only skipped away from work on Friday to have lunch at the Fest, but headed downtown on Saturday for lunch again. You can never have too much BBQ Rib Fest food!
I had a BBQ chicken sandwich from Famous Dave's with Sweet and Zesty sauce and double the Wilbur Beans. I love baked beans and these were absolutely delicious.
And we split a big ole plate full of fresh cut chips, half with cheese sauce and bacon bits. I was fasinated watching the people make these chips because they had a stand slicer on one end, then stuck the potato onto what looked like some sort of metal rod, and had a cordless power drill on the other end of the metal rod which spun the potato around and sliced it into this almost one entire piece, perfectly thin, spiral chip! It was amazing and I watched in excitement thinking...hummm...I wonder I could fashion one of these contraptions at home?!
A few pics from the Fest. Look at all that smoke! It smelled fantastic out there.
A couple of pics looking across the river at part of downtown Columbus.
We love going to the Jazz and Rib Fest each year. It has gotten better and better over the last few years as well, so I hope next year is just as fun and finger licking good.