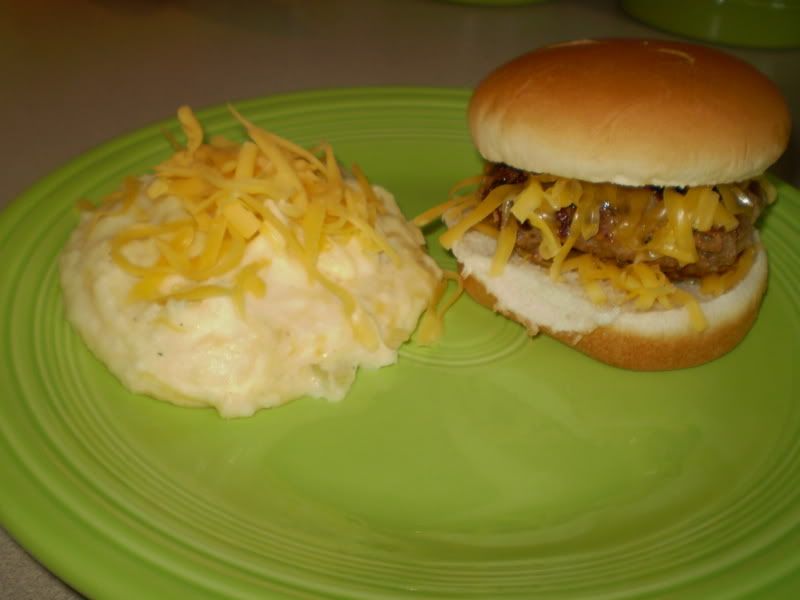 I'm not afraid to admit that I love
Rachel Ray
. I know a lot of people find her annoying, there are even several "I hate Rachel Ray" websites out there, but I have always enjoyed watching her shows and her cookbooks and
magazine
have some great and flavorful recipes. Can I get a YUMMO!?!?
This recipe for Cheddar Studded Tex-Mex Meatloaf Patties is my absolute favorite from Rachel's cookbook
365: No Repeats A Year of Deliciously Different Dinners
. These are simply the best burgers I have ever eaten. My husband and I make these for dinner at least once every couple of weeks. With Rachel's Smashed Potatoes, this is an excellent and quick week night meal after a long day at work.
The Smashed Potatoes are super simple and I don't even look at the recipe anymore, I just throw them together with the add ins we have come to like best.
As you can see, this is my favorite RR cookbook and it has taken quite a beating. The binding of the book actually broke right on this recipe because I use it that often. I told you these are good burgers!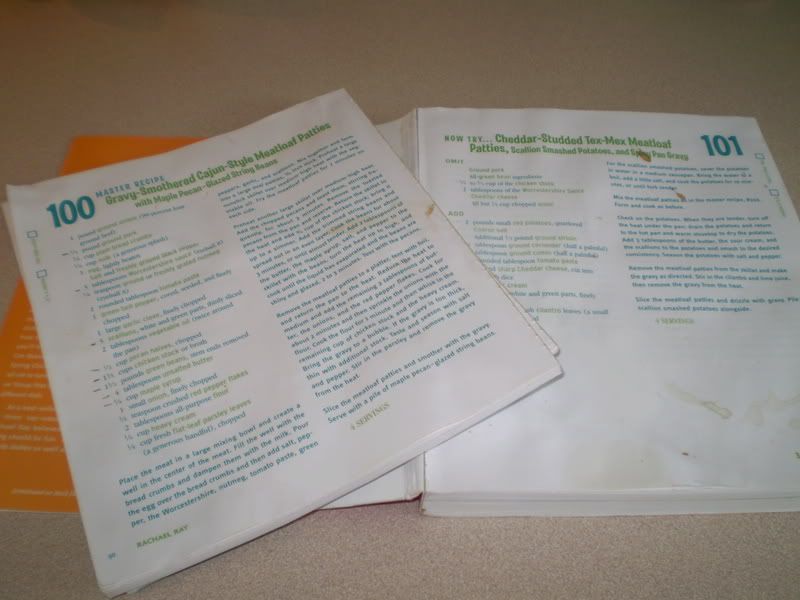 Cheddar Studded Tex-Mex Meatloaf Patties
(Rachel Ray 362: No Repeats)
Ingredients:
1 lb ground sirloin
1/4 cup plain bread crumbs
1/8 cup milk
1 egg
Salt and pepper to taste
1 tablespoon Worcestershire sauce
1/4 teaspoon ground nutmeg
1 tablespoon tomato paste (or ketchup)
1/2 green pepper, cored, seeded and finely chopped
1 large garlic clove, finely chopped
1/2 tablespoon ground coriander
1/2 tablespoon ground cumin
1/2 cup shredded sharp cheddar cheese
Directions:
Mix all ingredients together (I like to season the meat first with the S&P and Worcestershire sauce and then throw everything else in). Form into 4-5 burger patties and cook on medium heat in a skillet or on the grill to desired "doneness". Is "doneness" a word?? Yeah, I didn't think so, but you know what I mean! ;)
Smashed Potatoes
(modified from Rachel Ray 362: No Repeats)
Ingredients:
4-5 large Yukon gold potatoes, peeled and diced
½ cup sour cream
2 tablespoons butter
S&P to taste
½ cup shredded cheddar cheese
Handful of bacon bits
Directions:
Boil the potatoes until soft, drain and put back in the pot. Add remaining ingredients and use a potato masher to mash and mix. If you like the potatoes smoother, use a hand mixer to mash and mix together. If you don't mind the potatoes lumpy, then just use the masher and stir.
I like to serve these like burgers, on a toasted bun with some extra cheese (like the first pic). My husband likes his more like meatloaf with brown gravy and no bun. Either way they are DELISH!