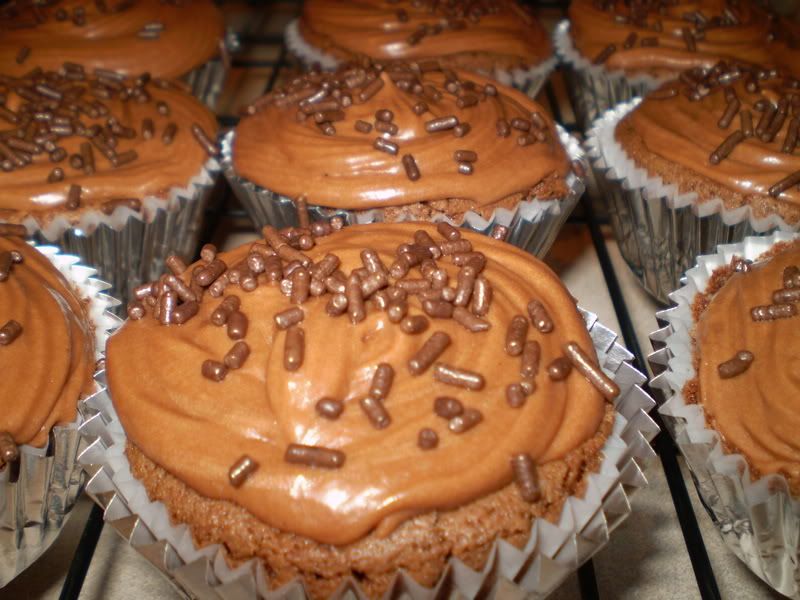 The TWD recipe for this week was selected by
Clara of I *heart* Food for Thought
. I must first just say...Clara...Thank You Thank You Thank You!!! I LOVED this recipe! The cupcakes tasted amazing and this was an A+ recipe!
Many TWDers said they had a problem with the cupcakes being a bit too dry, so knowing that, I cut a few minutes off the baking time. The recipe (which you can find
here
on Clara's blog) says to bake the cupcakes for 22-25 minutes. I set the timer for 18 minutes and they were perfect.
One of my favorite things about Baking From my Home to Yours is the fact that several of Dorie's recipes include a "Playing Around" section which gives you ideas on fun ways to change up the recipes. For this recipe, Dorie suggested adding marshmellow fluff to the center of the cupcakes. I did this using a pastry bag and a large tip.
I decided to forego the glaze on top of the cupcakes as Dorie's recipe calls for, and instead attempted to make a whipped ganache which I saw on another of my favorite blogs,
Tartelette
. Unfortunately, the whipped ganache did not quite turn out as I expected. The recipe is simple enough, heavy cream and chocolate. How hard could it be, right? Well, it just never seemed to come together and all I ended up with was a chocolate whipped cream. It never seemed to thicken up or get stiff as I expected it to and was much too runny to use as a frosting. So I decided to add some powdered sugar to attempt to salvage this concoction. After about 6 CUPS of powdered sugar, I had something close to a frosting consistency, and it tasted pretty good, so I just went ahead and used it. It seemed to be a big hit, so I guess it was a success of sorts, but wasn't quite what I had hoped it would be.
These cupcakes were still delicious nonetheless and I think this will be my go-to recipe for the cupcake portion. I would like to make them again and try the glaze as Dorie suggests because I am sure it is a perfect combination.