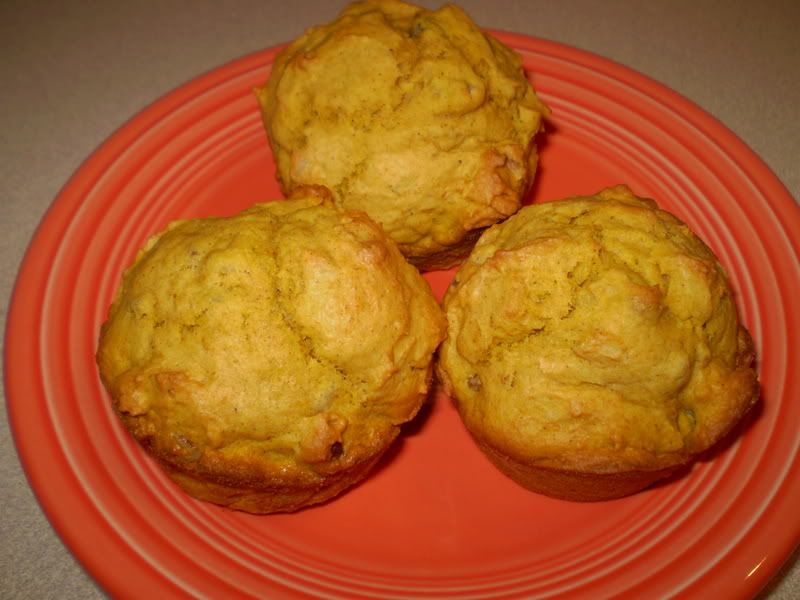 This week's Tuesdays with Dorie recipe, Pumpkin Muffins, was selected by
Kelly of Sounding My Barbaric Gulp!
You can find the full recipe on Kelly's blog
here
.
I must say, I am not a pumpkin fan at.all. Not.at.all. I never eat pumpkin pie at Thanksgiving, much to the dimay of my mother in law who was rather disappointed last year when I didn't even touch the pie she made for dessert. But my husband really enjoys pumpkin, so this was again going to be a recipe that I made just to send to work with him. His co-workers are really starting to love me!
This recipe came together very nicely. I did try a bite of the muffins and thought that the pumpkin flavor was actually very subtle and the texture of the muffins was very moist. I omitted the raisins as my husband hates raisins and would never forgive me if I actually used them in this recipe. Several TWD's added chocolate chips of white chocolate chips to this recipe. If I were to make these muffins again, I think I would try adding the white chocolate chips to kick them up a notch.
Also, several TWD's noted that the baking time on these muffins was a few minutes less than actually listed in the book. I found that to be true as well. The book says to bake at 400 degrees for 25 minutes. I set the timer for 20 minutes and actually checked them after about 17 minutes and they were perfectly done.
I mistakenly thought that I had cupcake liners in the pantry, and when I couldn't find them I got a little worried. But I bought
Baker's Joy
spray recently and just used that instead. The muffins popped right out of the pan when they were done. If you haven't tried this stuff, give it a shot. My muffins didn't stick at all and it's much less messy than buttering the pan.