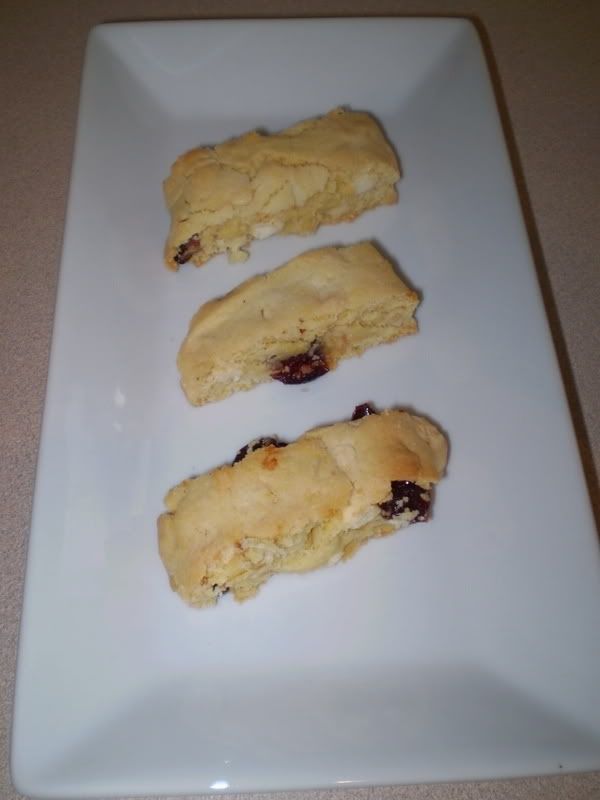 This week's TWD, Lenox Almond Biscotti, was selected by Gretchen of
Canela & Comino
. I've made biscotti a few times in the past, and while it was ok, I've never been much of a fan of how hard and dry biscotti can be. I like moist and chewy cookies, so this was definitely going to be a recipe to take to work and share with others, unlike the Malted Chocolate Whopper Drops from a few weeks ago which I ate tons of while sitting on the couch watching tv! Don't judge, they were good and totally worth it!
But I did decide that these biscotti needed to be "jazzed" up a bit, so I added in white chocolate chips, dried cranberries and dried cherries. The addition of cornmeal to this recipe was a bit surprising, I was skeptical, but I used it anyway. Many TWDers said they didn't like the cormeal, that it made the biscotti kind of gritty, and I have to agree. If I were to make this recipe again, I would leave out the cornmeal.
The bake time seems very short for these biscotti, only 15 minutes each time you bake them (biscotti are basically twice baked cookies). Maybe I should have baked them longer, but I sort of liked that they were not rock hard as most biscotti I have tried before tend to be.
While this wasn't my most favorite TWD recipe, I did enjoy it. With the additional of the white chocolate chips, and dried cranberries and cherries, this reminded me of the perfect cookie for Christmas time.