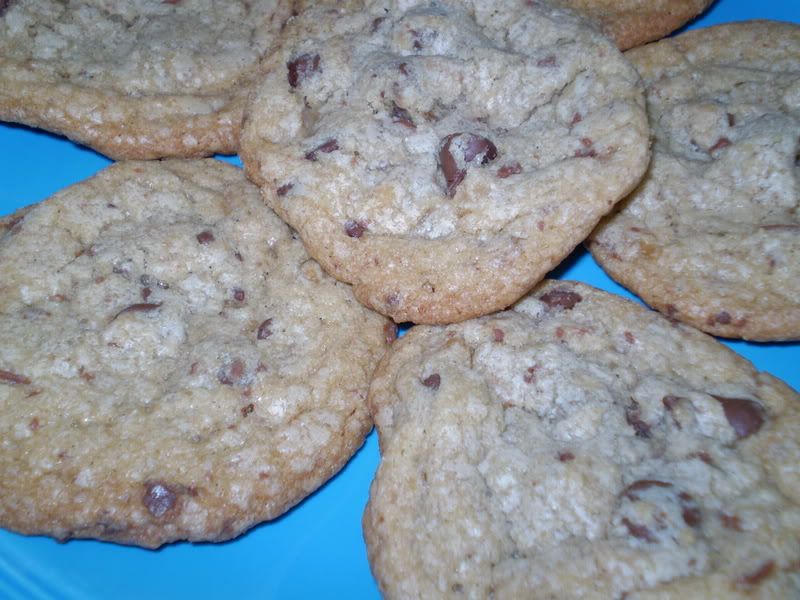 I don't mean to brag or anything, but I make the best.chocolate.chip.cookies.ever! I cannot at all take credit for creating the recipe, but I can take credit for trying an absolute ton of different recipes until I found the perfect one. That was a hard job I must admit. ;)

I love, with all my heart and soul, Ghirardelli chocolate. It's the only chocolate I like to use when baking. So, when I saw this recipe on the back of the Ghirardelli chocolate chip bag, I just had to try it. It's heavenly! Pure, unadulterated bliss in cookie form! Especially with my "secret ingredient" added in for good measure.
The Ultimate Chocolate Chip Cookie
(from Ghirardelli - Yield 4 dozen)
Ingredients:
2 1/4 cups unsifted flour
1 teaspoon baking soda
1/2 teaspoon teaspoon salt
1 cup (2 sticks) butter, room temperature
3/4 cup sugar
3/4 cup packed brown sugar
2 eggs
2 teaspoons vanilla
2 cups Ghirardelli milk chocolate chips (I prefer milk chocolate over semi or bittersweet, but you can use whichever you prefer)
1 cup Heath bar bits (my "secret" ingredient)
Directions:
Preheat oven to 375ºF. Stir flour with baking soda and salt; set aside.
In large mixer bowl, cream butter with sugar and brown sugar. Add eggs one at a time and vanilla, fully incorporating after each addition.
Gradually blend dry mixture into creamed mixture. Stir in chocolate chips and Heath bar bits.
Drop 1 tablespoon of dough per cookie onto ungreased cookie sheets. I always line my cookie sheets with parchment paper and I use a small ice cream scooper to form the cookies to ensure they are all the same size.
Bake at 375ºF for 9 to 11 minutes or until golden brown. I bake for approximately 9 1/2 minutes and they come out perfect everytime.
Allow to cool for 5-10 minutes on a cooling rack and then transfer to an air tight container or ziplock bag so the cookies stay fresh and chewy.