My husband and I both love the Garlic Noodles at P.F. Chang's. So I decided to search the web and try to find a copy cat recipe for these noodles. My search turned up
this
recipe from cdkitchen.com, which was similar to the P.F. Chang's version, but not quite as good. My husband loved them though, I thought they were ok.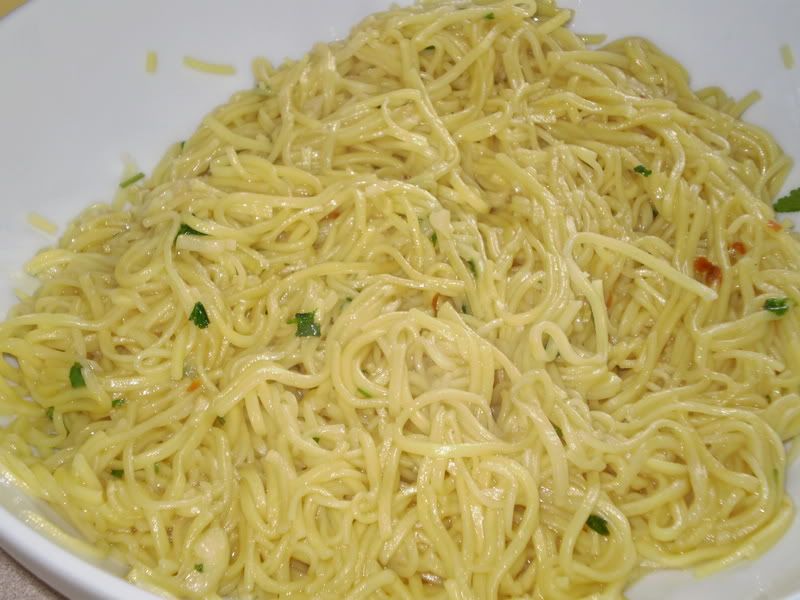 Garlic Noodles
(from cdkitchen.com)
Ingredients:
3 teaspoons minced garlic
3 teaspoons sugar
2 teaspoons white vinegar
1 1/2 teaspoon red chile flakes
2 teaspoons canola oil
1 pound fresh Chinese noodle or vermicelli
1/2 teaspoon sesame oil
4 ounces Cantonese stir fry sauce (see recipe below)
1 Japanese cucumber or English cucumber (I omitted the cucumber)
2 teaspoons chopped cilantro
Cantonese Stir Fry Sauce
3/4 cup water
1 teaspoon chicken base powder (no MSG)
1 teaspoon sugar2 teaspoons shaohsing wine or sherry
1 teaspoon oyster sauce
1/2 teaspoon salt
1 teaspoon cornstarch
Directions:
Cook pasta. Rinse and cool down. Set aside. Toss in red chile flakes and cilantro. Wash cucumber. Slice diagonally into 1/4" thick slices. Slice into strips. Set aside. Heat wok thoroughly, add oil, then minced garlic. Stir fry briefly. Do not burn garlic or it will take on an acrid smell and taste. (If this happens, throw it out and start over.) Add sugar and vinegar. Add noodle to wok, stirring and tossing to mix until noodle is heated through. Place on plates and surround with cucumber strips.