I was searching the internet for food blogs one day and came across a most fabulous site,
Bakerella
. Looking through the Bakerella site, I saw a post for cake balls that looked pretty interesting. So I bookmarked it and thought, maybe one day I will make those, they look yummy! A few weeks passed and I looked at the site again and Bakerella had updated with a new post about the cake balls, only this time she was calling them Cupcake Bites and had shaped them to look like little miniature cupcakes. Now they were just too cute to ignore, so I immediately ran out to buy the simple ingredients and bake away.
Bakerella was even on the Martha Stewart Show making these adorable little treats and they are now popping up on food blogs everywhere. They are super easy to make and fun to decorate, but they are a little time intensive. Depending on how large you make them, you can easily get around 45 bites out of this recipe. So don't do like I did the first time I made them and think...hey, if one type of cake is good, then two is even better! I was buried in cake balls up to my chin!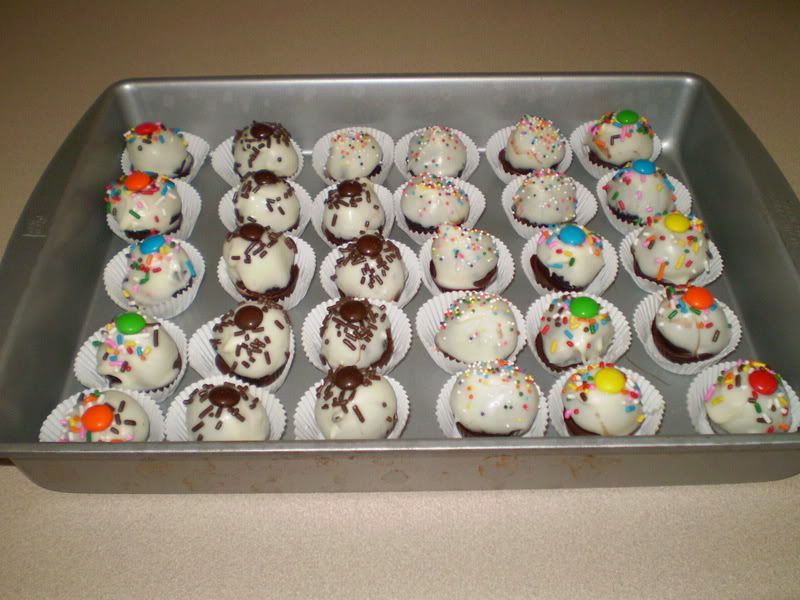 Cupcake Bites (from Bakerella - my notes are added in parentheses)
Ingredients:
1 box cake mix cooked as directed on box for 13 X 9 cake (I like chocolate fudge, but Bakerella has made red velvet that is really good too)
1 can frosting 16 oz. (Match the flavor to compliment your cake, with chocolate fudge I like chocolate frosting, but with red velvet the cream cheese frosting is great)
1 package chocolate bark or candy melts for cupcake bottom
Colored Candy Melts for cupcake top
Candy Cup Mold (I bought the peanut butter cup shaped mold at a craft store)
Sprinkles and m&ms for decoration
Directions:
After cake is cooked and cooled completely, crumble into large bowl. The texture should be fine/fluffy.

Using the back of a large spoon, mix thoroughly with 1 can frosting. It may be easier to use fingers to mix together, but be warned it will get messy. (It is easier to use your hands, but it's VERY messy.)

Roll mixture into quarter size balls, make sure they are smaller in diameter than that of your candy mold, and lay on wax paper covered cookie sheet.

Chill in the freezer for a few minutes, until they are slightly firm, not frozen.

Melt chocolate bark and candy melts in microwave per directions on package. (I melt the candy melts in a nonstick pot right on the stove top on a very low heat setting and stir continuously so it doesn't burn.)

Using a spoon or squeeze bottle, fill each mold cavity with a small amount of chocolate. Sorry, I didn't think to measure how much. But as soon as you fill the cavity, go ahead and place one of your rolled balls into it. Carefully push it down until the force causes the chocolate to push up and fill in around the sides of the ball. You may have to experiment with a couple to get the right amount. Stop pushing once the chocolate reaches the top edge.

Place the mold tray filled with cupcakes in the freezer for just a few minutes to let the chocolate set. Remove and then gently pull up on the cake ball top to release from candy mold.
Now, holding the bottom of the cupcake, dip the top in another color of melted chocolate.

Decorate.
Here's a like to Bakerella's post and much cuter Cupcake Bites.