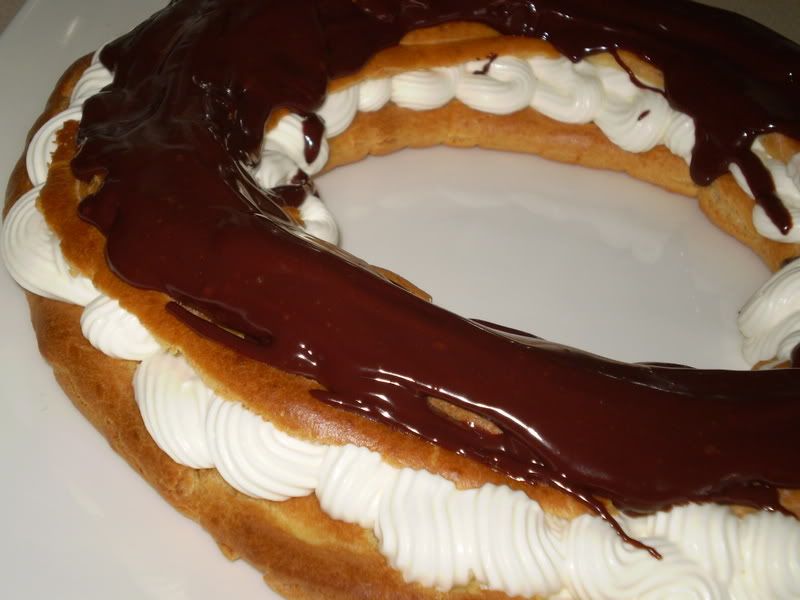 My first official
TWD
creation and post! This week's recipe, the Peppermint Cream Puff Ring, was chosen by Caroline of
A Consuming Passion
.
I was very excited to make this recipe, as it is something I have never done before. This type of pastry dough, called pate a choux, sounded simple enough, but I'm not going to lie...I was a bit intimidated. The recipe and Dorie's instructions were fool-proof though, and the dough came together very nicely. The only problem that I had was that I did not have quite a large enough pastry bag tip to pipe out the dough, so rather than doing 2 rings on the bottom and one on top connecting them as the recipe instructed, I made several rings on the bottom and several on top connecting to get the entire ring to the thickness I thought it needed to be. When baking, this made for quite an uneven rise, but in the end I "made it work" as Tim Gunn would say, and I was happy with the result.
I decided to skip the peppermint flavor in the cream filling because I wasn't feeling in a very pepperminty mood, but I would like to try it sometime. The cream was amazingly good. I think I will make homemade whipped cream like this for many other desserts from now on...it certainly beats the stuff in the spray can and tub! I would also like to try this recipe again with a pastry cream filling, I think it would be very good.
When making the chocolate glaze for the top of the ring, I needed to use a little more heavy cream than the recipe called for. Following the recipe, I thought that the glaze was a little too thick and syrupy, so I added in a dash more heavy cream at a time until I thought it was a nice consistency. One other small change I would make next time is to use semisweet or milk chocolate instead of bittersweet chocolate. I'm not much of a bittersweet chocolate fan, but I wanted to stick as close to the original recipe as possible, and since I had already eliminated the peppermint from the cream, I didn't want to go making any more changes to Dorie's amazing recipe.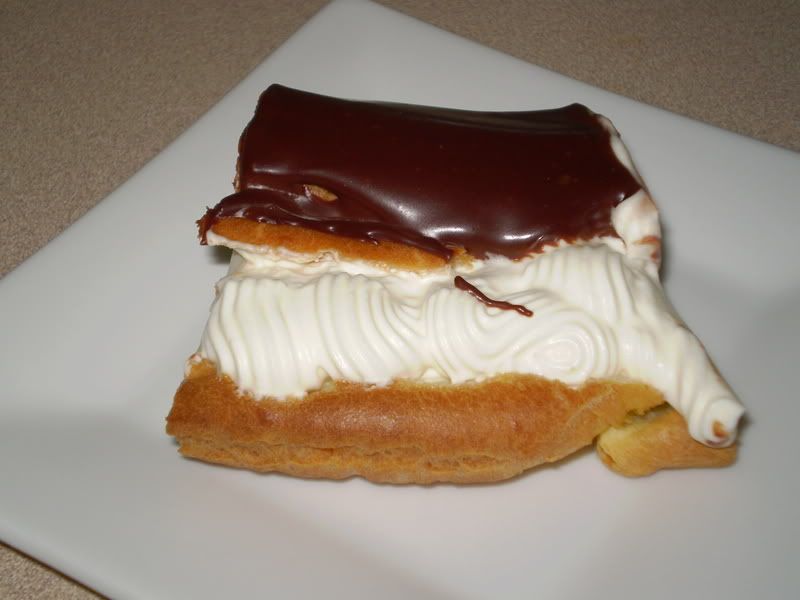 Just another note: It was recently decided that TWD members will not be posting the full recipe each week, and only the person who chose the recipe will post the entire recipe on their blog. You can find the full recipe on Caroline's blog
here
.
I plan on making a few of the past TWD recipes in the coming weeks, so when you see those posts, if you would like the recipe or more information, you can email me at
2cupsofsalt@gmail.com
.