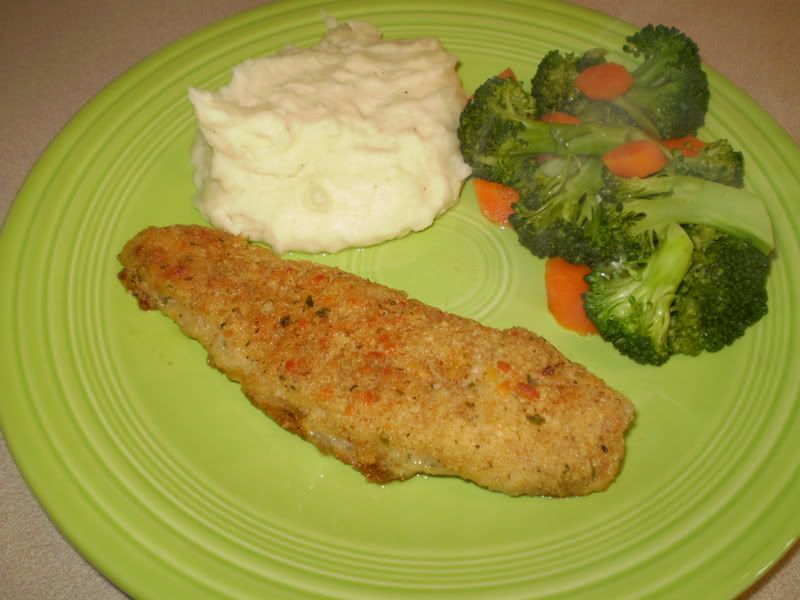 Three of my favorite things. This recipe was very simple to make and had a lot of flavor. I've made a similar style chicken before, adding crushed pretzels to the bread crumb mixture, but this was a nice light breading and the chicken came out very moist and flavorful. I served it with some steamed veggies and
Pioneer Woman's mashed potatoes
(this is the only way I make mashed potatoes now, the cream cheese makes them so creamy and yummy and mmmmm.)
The recipe is from Jaime at
Good Eats 'N Sweet Treats
and can be found
here
. My modifications are below because I made a little more so we would have some leftovers to bring to work for lunch today.
Ingredients:
1 stick butter
2 cloves of garlic, chopped
1 cup Italian Seasoned Bread Crumbs
1/2 teaspoon Lawry's Garlic Salt
1/2 teaspoon black pepper
3 tablespoons grated parmesan cheese
1/2 cup shredded cheddar cheese (pulsed in food processor until small pebbles)
4 boneless skinless chicken breasts, sliced or pounded thin
Directions:
Preheat oven to 350 degrees F
Melt butter in a saucepan over low heat with garlic for about 5 minutes.
In a bowl, mix bread crumbs, garlic salt, pepper, parmesan cheese and cheddar cheese. Dip chicken in garlic butter to coat, them press into bread crumb mixture. Place in a large baking dish and drizzle with a little more butter. (Use all the butter if you like, or save a little and drizzle it over the mashed potatoes.)
Bake for 30 minutes, or until chicken is no longer pink.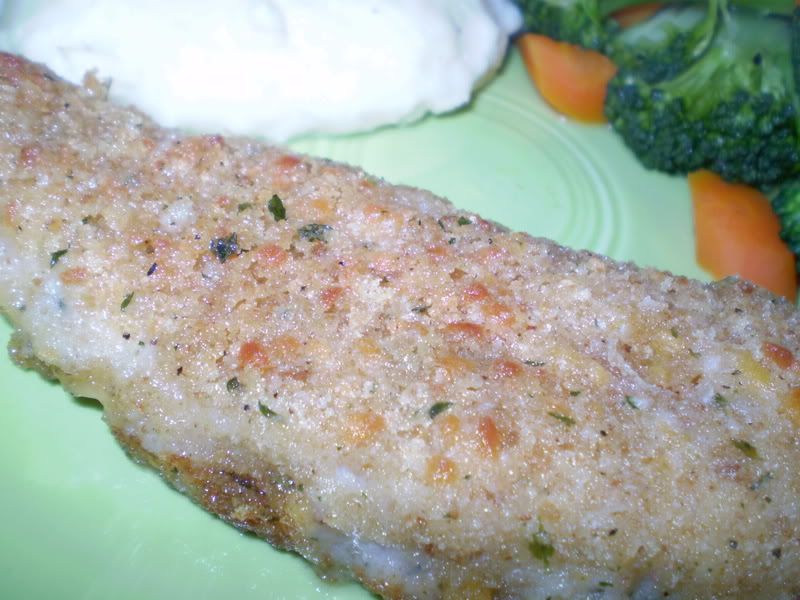 My husband declared this meal "amazing" and declared me the "best wife he has ever had." Being the only wife he has ever had, I'm not sure if that is a compliment or not, but I'll take it nonetheless. ;)