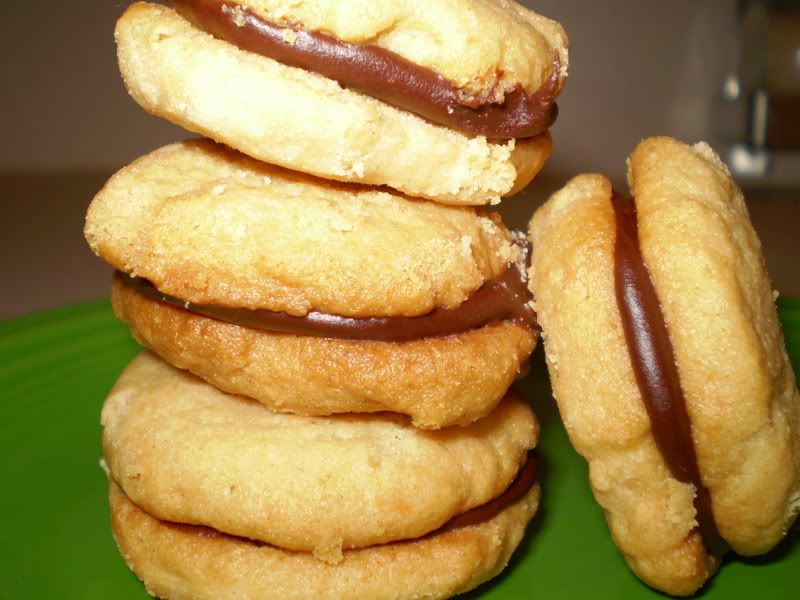 For Christmas, my husband ordered me several subscriptions to cooking magazines. One of my favorites is the Everday Food magazine from Martha Stewart. I found this recipe in the June 2008 issue. These cookies were a nice little treat, very creamy texture and they store well in an air tight container.
Chocolate Peanut-Butter Sandwich Cookies
(
Everyday Food June 2008 - Yield 15
)
Ingredients:
1 cup all-purpose flour (spooned and leveled)
1/4 teaspoon baking soda
1/4 teaspoon salt
4 ounces semisweet chocolate, chopped
2 tablespoons heavy cream
1/2 cup (1 stick) unsalted butter, room temperature
1/3 cup creamy peanut butter
1/3 cup packed light-brown sugar
Directions:
Preheat oven to 350 degrees, with racks in upper and lower thirds. In a medium bowl, whisk together flour, baking soda, and salt; set aside.
Make filling: Place chocolate in a medium heatproof bowl set over (not in) a saucepan of simmering water; stir frequently until almost melted. Remove from heat; stir until completely melted. Stir in cream; set aside to cool and thicken, about 30 minutes.
Meanwhile, using an electric mixer on high speed, beat butter, peanut butter, and sugar in a large bowl until light and fluffy. Reduce speed to low; add flour mixture, and mix just until blended (do not overmix).
Drop dough by heaping teaspoons onto two baking sheets, about 1 1/2 inches apart. With the bottom of a damp glass, lightly flatten each mound of dough into a 2-inch round. Bake until golden around edges, 12 to 14 minutes, rotating sheets halfway through. Transfer cookies immediately to a wire rack to cool completely.
With a small offset spatula or table knife, spread bottom of half the cookies with 2 teaspoons filling each; sandwich with remaining cookies, pressing gently to spread filling to the edge. Let set for 15 minutes before serving.