From the looks of my blog posts so far, you would think all I ever eat is dessert. That's not entirely true, although I never pass up a sweet treat before, during or after a meal. I do enjoy savory dishes as well though.
A few weekends ago, I spent an entire Sunday afternoon in the kitchen making fresh pasta dough and homemade ravioli. The recipe made enough for 2 meals for my husband and I, so I decided to freeze some so we could enjoy them again. I was very pleased with how they turned out and plan to make several more batches of various fillings to freeze. This made for a quick and delicious week night meal after a hectic day at work.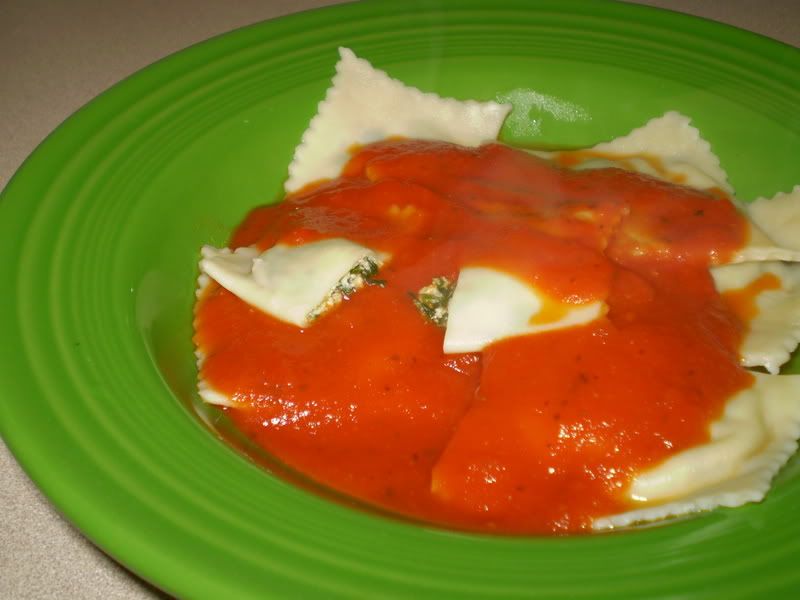 For this batch, I decided to make a spinach and artichoke filling. I basically adjusted a recipe that I use for spinach and artichoke dip and instead of cream cheese, I used ricotta. There was quite a bit of filling left over which I just baked in a small dish and used as a dip, but next time I will cut the recipe down a little for the filling, or make more pasta dough to fill.
Spinach and Artichoke Ravioli
For the dough:
2 and a 1/4 cups flour
3 eggs
Pour the flour out on a piece of parchment paper and make a well in the middle. Lightly beat the eggs and then pour them into the well in the flour. Slowly mix together and once the dough forms, knead it for about 5 minutes. Wrap in saran and put in the fridge to rest for 45 minutes. I used the pasta maker attachment on my Kitchen Aid to roll it out into sheets, but you could also just use a rolling pin. I made long sheets of pasta about the thickness of linguine noodles and about 4-5 inches wide. Fold the sheet in half lengthwise so you have a mark down the center and unfold again.
Put a tablespoon of the filling along one side of the pasta about 2 inches apart from each other. Fold the other side over the top and press together between the mounds of the filling. I used a pastry cutter to cut the ravioli out around the filling. Press the sides together just so they are firmly stuck and wouldn't pop open when boiled.
For the filling:
1 cup chopped frozen spinach, drained of water
4-5 artichoke pieces (I used the jarred kind that is in olive oil)
1 small tub of ricotta cheese
1/2 cup shredded mozzarella cheese
1/2 cup freshly grated parmesan cheese
1/2 teaspoon black pepper
1 teaspoon garlic salt
1 large clove of garlic
Put the garlic, spinach and artichoke in a food processor and chop to a fine mince. Transfer to a medium sized bowl and mix in all other ingredients. Fill the ravioli dough with the mixture.
To freeze, place ravioli flat one by one in a ziplock bag and put a piece of parchment in between the layers (I put two layers in each bag) so they won't stick together. Place the bags flat in the freezer. Not sure how long they will keep, but I used a bag 2 weeks after freezing and they were perfectly fine.
If cooking fresh, boil in lightly salted water for 7-9 minutes until al dente. If cooking after freezing, thaw for about 20 minutes before boiling as above. Top with your favorite marinara sauce.
From the freezer.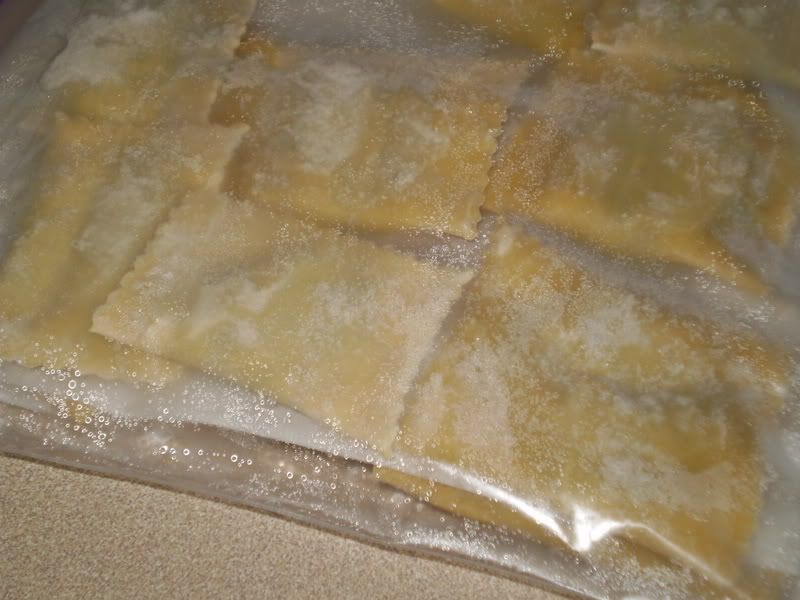 Garlic Bread with cheese

5 large slices of crusty bread
4 tablespoons of butter, softened to room temperature (or softened in the microwave in a bowl for 20 seconds)
½ teaspoon garlic salt (I like Lawry's Garlic Salt)
1 cup shredded mozzarella cheese
¼ cup fresh grated parmesan cheese
1 tablespoon dried parsley
Mix garlic salt with butter and spread evenly on bread slices. Top with cheeses and sprinkle with parsley, and bake on 400 degrees for 6-8 minutes until cheese is melted and golden.