There I go neglecting my food blog already. I have made some delicious meals since starting this blog last week, I just haven't gotten around to downloading the pictures I took and posting them yet. I plan to do that this weekend, hopefully.
In the meantime, I thought I would post some pictures from my kitchen. I'm one of those crazy people that's obsessed with Fiestaware dishes. I have so many pieces that I am afraid one day I will come home from work to find all my kitchen cabinets have fallen off the walls due to the weight of the dishes inside. My poor husband begs me not to buy any more, but it's not my fault that the Homer Laughlin China company keeps making new colors...blame them, not me.

These are some of the newest things I have purchased. My mom and I take a trip out to the Homer Laughlin factory in West Virginia once or twice a year, and this is the damage from our last trip back in the fall.

This is the state of one cabinet. Yeah, I think it looks like the bottom shelf is bowing a little too. Oops.
I also have a large buffet and hutch in the kitchen which houses many many many Fiesta dishes. The buffet table is from an unfinished wood furniture store and my mom helped me paint it white. The hutch on top of the buffet was hand made by my mom and dad...they did a great job!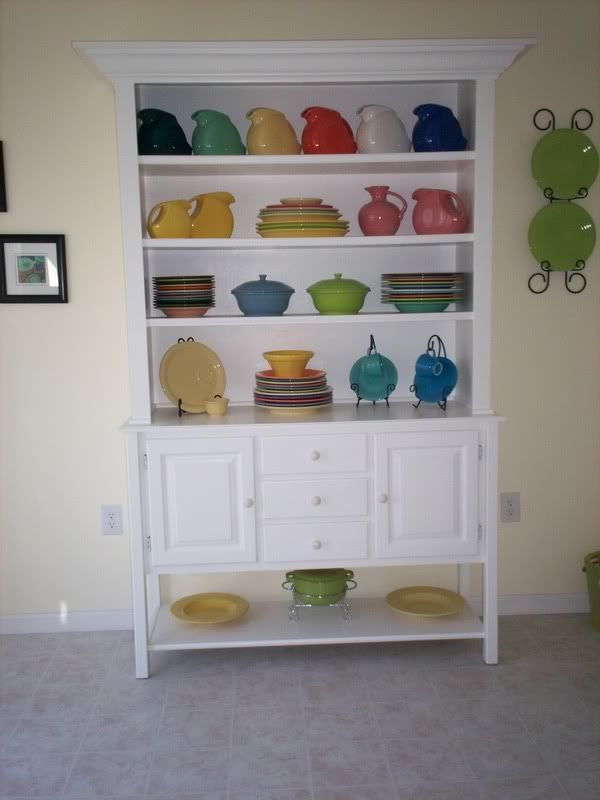 And since I am sure you are completely bored by now, this will be the last picture of my Fiestaware (for the time being). My latest Fiesta obsession...vintage nesting bowls. There are 7 in the set and currently I have 5... I still need the number 2 size, as well as the largest number 7 size. These bowls were manufactured from 1937 through 1944 and yes, the red is called "radioactive red" because they used low grade uranium to make the color glaze. What's the big deal, everyone needs a little radioactive uranium in their kitchen, right?!