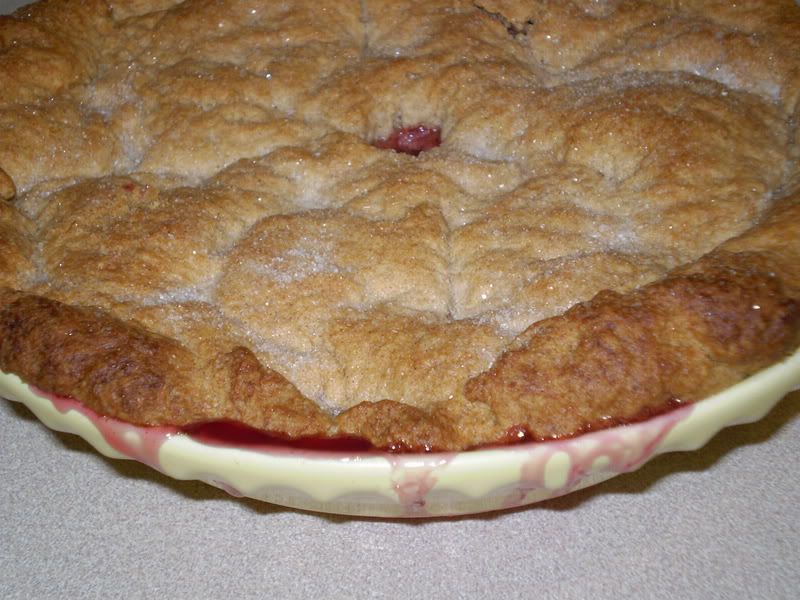 This week's
TWD
, Mixed Berry Cobbler, was chosen by Beth of
Our Sweet Life
. Beth has the recipe posted
here
on her blog.
The recipe looked great as is with the mixed berries, but when I went to the store for the ingredients, they had Bing Cherries on sale and they looked so wonderful, I just had to buy them. I thought a great combo would be peaches and cherries, so that's what I put in the cobbler and the flavors were very nice and summery.
Several
TWD'ers
posted about the dough topping being a little bland, so I decided to add about a teaspoon of cinnamon to the mix and sprinkled a little extra sugar on top right before baking. I thought the dough was
fantastic
this way. It was a cross between a pie crust and a crumbly crisp sort of topping I thought. I really liked it and will probably use it for other recipes as well.
I cut the recipe in half (if you look at my post below, Peanut Butter Torte, you'll know why! I had way too many sweet things in the house this past weekend!!) But even cutting the recipe in half, I still used an approximately 7 inch pie baker and it was a nice size.
My only real problem with this recipe was that the peaches were a little under ripe, so even though my crust was getting way too dark and done in the oven, the peaches still needed a little more time to cook. And I should have added a little more cornstarch to the fruit, the juices were just a little runny when it was done and didn't thicken up much even after sitting for a bit.
Nonetheless, served with vanilla bean ice cream and a big giant spoon, this was a hit in my house!